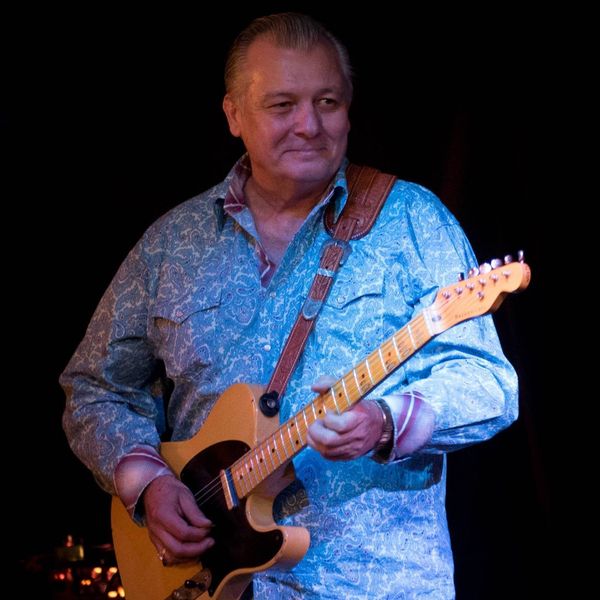 Band Bio... Steve Kozak Band

One of Canada's finest blues artists, Steve Kozak has been turning heads of blues fans in Canada for over thirty years since he first broke onto the Vancouver scene in the mid-eighties.

When it comes to tasty West coast Blues guitar, Kozak's name ranks among the top of the list in this nation -- just ask greats like Duke Robillard and James Harman who have shared the stage with this gifted bandleader, instrumentalist, writer and singer.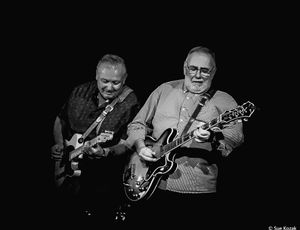 (Steve Kozak and Duke Robillard in Vancouver Dec. 2021)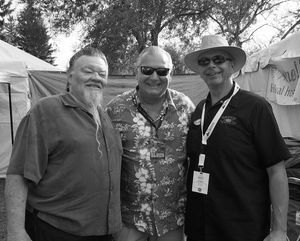 (James Harman, Steve Kozak and Cam Hayden at the Edmonton Blues Festival)
 
Gaining national recognition in 2012, Steve Kozak was nominated by industry professionals from across Canada and won a prestigious Maple Blues Award for New Artist or Group of the Year. Steve was also awarded The Ambassador of the Blues Award for 2012 by the Blues Underground Network.
Featured in the January 2018 special 100th issue of the UK publication Blues Matters magazine, Steve Kozak, 'The making of a Canadian Icon', word about is getting out around the world about this western Canadian Blues artist.
The Steve Kozak Band was nominated for a 2017 and a 2018 Western Canadian Music Award for Blues Artists of the year and for a 2017 Fraser Valley Music Award for Blues Artists of the Year.
Steve was an instructor at the 2018 Hornby Island Blues Workshops in May on beautiful Hornby Island BC along with a dozen or so of Canada's finest Blues musicians who shared their knowledge and inspiration with the 70 students who attended the workshops.
Steve has also been an instructor at the 2020 Okanangan Blues Workshops in Penticton BC and looks forward to leading another workshop at The Dream Blues Camp in October of 2022.

 Steve Kozak's latest and fourth album 'It's Time'- The Steve Kozak Band, released in 2017 continues to hold its place into 2019 on the Roots Music Report Top 50 album and Soul Blues radio charts and is being featured on radio playlists across Canada, Europe and the USA.
Kozak's original song 'Goin' Fishin' from 'It's Time' was the featured theme song on the popular syndicated television show Gary Cooper's Nice Fish for the 2018 television season.
Steve's previously released self-promoted album Lookin' at Lucky featuring Blues legend, James Harman, was very well received.  Twice reaching #1 spots on Blues and Roots radio station top 20 charts in Canada, and hitting #10 in the top 50 Blues albums, getting radio play in the USA the year it was released.

Bruce Iglauer, head of the prestigious Chicago blues label Alligator Records, reviewed  Lookin' at Lucky and confirmed Steve's arrival, commenting: "This is a well-crafted album, performed with taste and subtlety. Any Blues fan should enjoy it; I sure did." 
 
Holger Petersen, host of CBC Radio's Saturday Night Blues and head of Stony Plain Records says…"Really been enjoying 'Lookin' At Lucky'. Well done all round."
 
Throughout his career Steve has performed on stage with many blues greats including; James Harman, Duke Robillard, Kenny 'Blues Boss' Wayne, Pee Wee Crayton, Big Joe Duskin, Sonny Rhodes, Eddie 'The Chief' Clearwater, Rod Piazza, Rick Estrin, Mark Hummel, Lee Oskar, Big Joe Louis, Tom Holland 'The Shuffle King'; David Vest, Robin Banks, Mitch Woods, and rockabilly guitar legend Evan Johns.
 
Some career highlights include being an instructor and performing at the 2018 Hornby Island Blues workshops,  guitar instructor and performing at the 2019 Okanagan Blues Workshops in Penticton BC, performing with The Duke Robillard Band, (subbing in for an injured Duke) on guitar as he fronted the band at two sold out shows at the 2015 Winnipeg International Jazz Festival, backing Blues great, James Harman on several occasions, performing as guitarist for the multiple award winning Blues artist, Kenny 'Blues Boss' Wayne,  performances at the 2018 Vernon Winter Carnival Blues Festival, The 2018 Calgary International Blues Festival,  host of the 2018, 2017, 2015 after hours All-Star Blues jam for the Edmonton International Blues Festival,The Edmonton International Blues Festival 2010, 2012, the 2016 Salmon Arm Roots & Blues Festival, the 2014 Burnaby Blues & Roots Festival, the 2016 Alpine Blossom Festival at Sun Peaks Resort, Sun Peaks BC,  Big Blues Bender All-Star Jam at the Riviera Casino lounge in Las Vegas, The El Macombo in Toronto, 2012, The Pender Harbour Blues Festival, 2010, 2013, 2014; Hwy.101 Music Festival, The Nanaimo Summertime Blues Festival, 2009, 2011, 2014, 2016, The Calgary Mid-Winter Blues Festival 2013, Powell River Blues Festival, 2011, 2012 Rare Earth Music Festival 2011 (Vernon BC), The Maple Ridge Blues Festival, The Gastown Chili and Blues Festival in Vancouver and numerous engagements at the renowned and very highly rated western Canadian live music venue, The Dream Cafe in Penticton BC.
 
Steve Kozak has also opened shows in Vancouver for Nick Curran and the Low-Lifes, Rick Estrin and the Night Cats, Maria Muldaur, The Lee Boys, Matt & Nikki Hill and 'Super Harp' James Cotton.


   Please do contact us here for bookings and more information.